Welcome to Louisville!
Believe. Engage. Connect! AABP is excited to have you attend the 2020 53rd Annual Conference whether in-person or virtually. For those of you who are registered as a virtual or in-person attendee, the conference live-streamed on a secure site so you can view them in real time from anywhere you have an internet connection.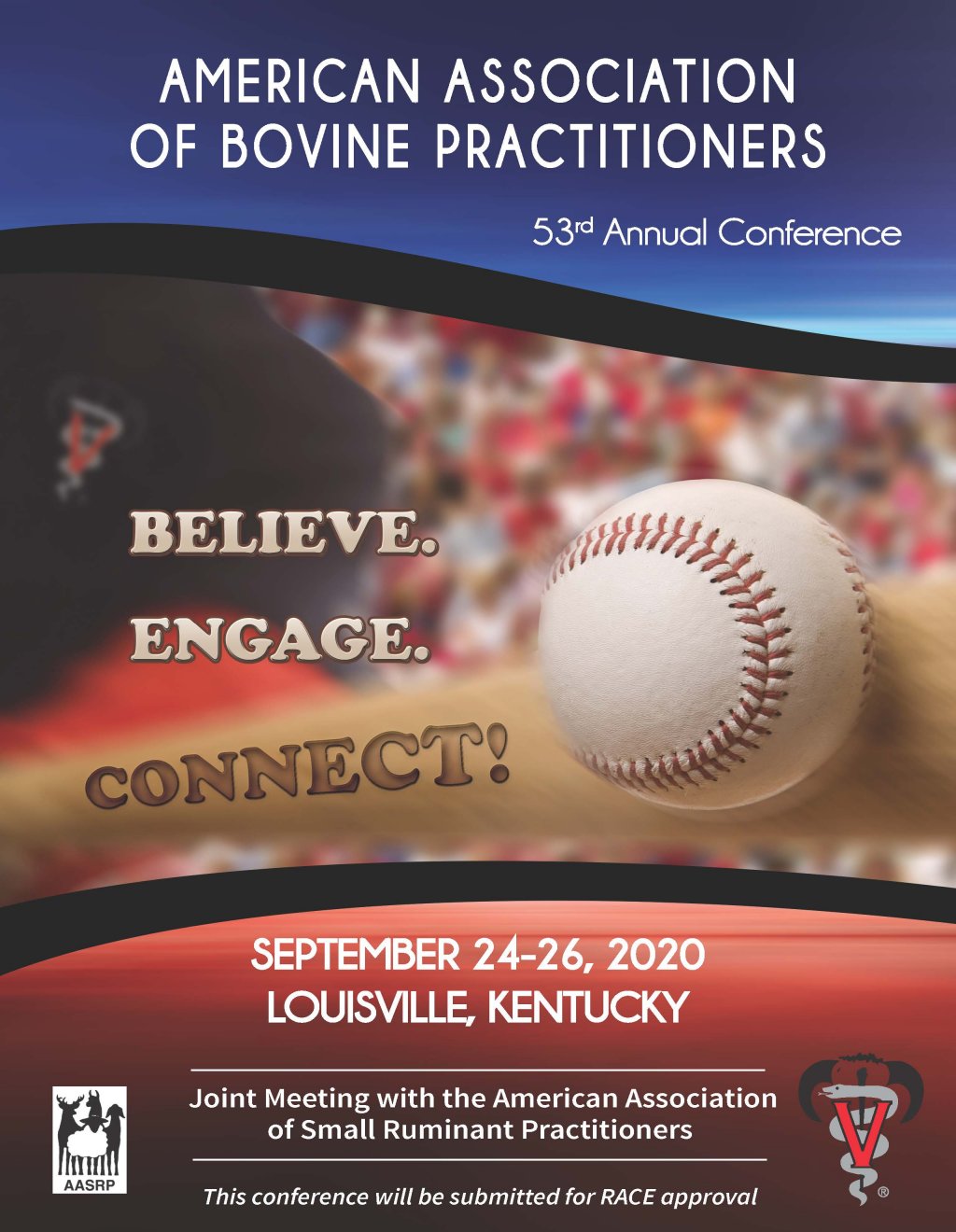 All presentations will be recorded and available online for members within a few months post-conference. Do you need to view the conference virtually but want to be able to ask questions? We will be using Slido again this year for both virtual and in-person attendees. Download the free app or got to slido.com to be part of the live audience and to ask questions or take part in session polls. Further information on use of Slido will be available to all registrants.
All of your favorite sessions will be featured in Louisville, such as beef, dairy, clinical skills, practice management, research summaries, student case presentations, clinical forums, preconference seminars and American Association of Small Ruminant Practitioners topics. We will still have events and meals, though they may look a little different than previous conferences. Our trade show featuring our exhibiting partners will be in-person as well as giving you the ability to visit a virtual booth on our website to download documents or presentations from sponsors.
Due to COVID-19, the Louisville Convention Center and hotels will institute precautions to minimize the risk to attendees that will make the Annual Conference a little different. The maximum capacity of people in session rooms and ballrooms will be adhered to with physical distancing between chairs. Meals will either be pre-packaged or buffets will be served by convention center staff. If a session room is at capacity, attendees will be asked to watch the live-streamed conference in a nearby room. Masks/face coverings are required while in the hotel or convention center meeting space. There is a restriction on distributing paper, therefore, there will be no printed pocket guide in 2020. All programming and events can be found online and on signage in the convention center. We recommend that attendees print the program at home or utilize the AABP conference app for session rooms and schedules. Registration packs, name badges and lanyards will be mailed to attendees before the conference. Attendees are required to follow convention center rules for the safety of all attendees. We ask for your cooperation as we navigate this new process.
This conference has been submitted for RACE approval in jurisdictions that recognize RACE. AABP is an approved CE provider in the state of New York. Number of CE hours available Thursday through Saturday for veterinarians and technicians is 22.25 hours. Number of CE hours available for seminars is 8 hours per seminar day or a total of 32 hours available for a veterinarian Sunday through Wednesday.
There are two types of registration options for the 53rd Annual AABP Conference.
In-person registration is for attendees to attend the conference in-person in Louisville. The registration includes attendance to all sessions and non-ticketed events at the conference. In addition, in-person registration includes codes to live-stream any sessions outside of the presentation rooms.
Virtual conference registration is intended for those AABP/AASRP members who cannot attend the in-person conference but would like to view the sessions live. Each session will be streamed live and viewable from your internet browser. Virtual conference attendees can participate from home or the office by asking questions using the Slido app and seeing the schedule using the AABP conference app. Instructions for attending the virtual conference will be emailed to all registrants by September 22nd.